In the framework of the SAS ACTIVITIES 2017 to acquire transferable skills, on May 22, May 23, May 24 and May 25 will take place a Workshop entitled "Communication, Collaboration, and Career Readiness"
The workshop will be held by Dr. Gloria Bader an experienced consultant in the field of leadership, who has guided and instructed graduate students from various universities, most recently at the University of California at San Diego. 
The workshop will provide insights and practice in many essential professional skills such as: interviewing, presenting, moderating teams, taking an inventory of your career assets, and collaborating. Each day, candidates will work in a small group to discuss common issues, react to readings, and complete activities. Each day candidates will have the opportunity to hear ideas and suggestions from their peers, set personal goals, and plan for their future success. 
Venue: Restaurant "Torre del Parco" loc. Torre del Parco, Camerino
Participation is mandatory for Doctoral candidates enrolled in the second and third years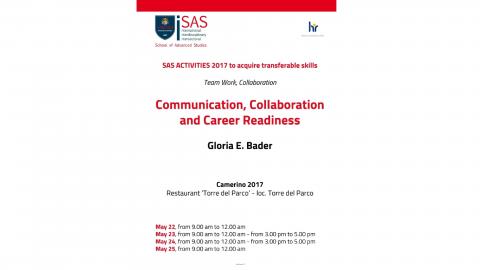 data di pubblicazione:
Thursday, May 4, 2017

to

Friday, May 26, 2017