In the framework of the SAS ACTIVITIES 2018 to acquire transferable skills, on February 12, February 13, February 14, February 15, February 16 will take place a course on Marketing.
The course will be held by Dr. Umberto Filippi at the Polo Ludovici, Computer Science Department
Participation is mandatory for Doctoral candidates enrolled in the third year, unless justified.
This is a theoretical practical course. You will be divided into small groups to do some work. Individual PC needed.
The course will be held in Italian. Therefore, International students who do not speak Italian are not requested to participate in it, but have to participate in the activities scheduled for the second year.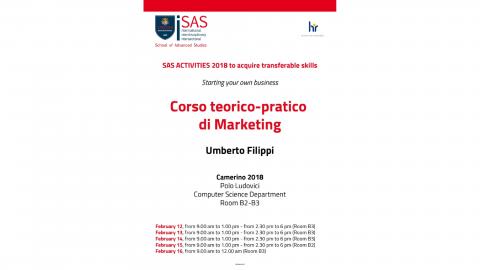 data di pubblicazione:
Wednesday, January 31, 2018

to

Friday, February 16, 2018