February 22nd at 3.00 p.m.
Self-branding: your experience and your skills as a researcher
Access link to the webinar (Cisco Webex) 
Speaker
:
 Lucia Salto, 
Career Development facilitator Research Dep., University of Turin
.
Goals
To reflect back on research experiences

To identify and express your skills, to explain how you put them into practice
Content
Self branding

Work on your personal branding

Your online presence (Linkedin, Twitter)

A  deeper insight into transferable skills for researchers.

Identifying and expressing your competencies

How to differentiate oneself from other competitors

The value of these skills in today's job market

How to valorize your skills
Presentation
Employers often look for people who can demonstrate a good set of transferable skills. The good news is that you already have transferable skills – you've developed such skills and abilities throughout your life, at university, your doctoral training and perhaps in your social life-. It is often important that you can identify and give examples of the transferable skills that you have developed. Employers will be looking at your potential. In addition, in today's job market, having a personal brand can open many doors for a variety of job opportunities. Work on your persona branding and develop understanding of your online professional identity, or "personal branding".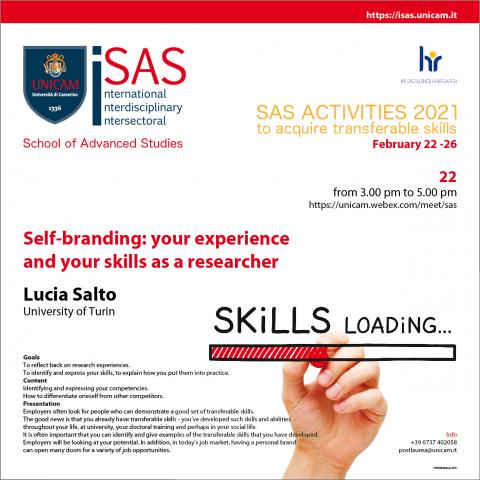 data di pubblicazione:
Tuesday, February 16, 2021

to

Tuesday, February 23, 2021