Thinking outside the box
Interdisciplinary and creative mindset for doctoral candidates.
From Sam Loyd's nine dots puzzle, "thinking outside the box" is perceived as a metaphor to think differently, unconventionally. Nowadays, students should be equipped through education with creative and critical thinking and interdisciplinary problem-solving.
A decisive factor in improving students' creative thinking is inspiring them to break out of the pattern rut. Encouraging divergent and interdisciplinary thought can help students confront new ideas and ways of working in the research field.
Third seminar: 
The Concept of Cycle as Dynamic Relationship Physics-Mathematics into the History
Raffaele Pisano
IEMN, Department of Physics, Institute of Electronics, Microelectronics and Nanotechnology Lille University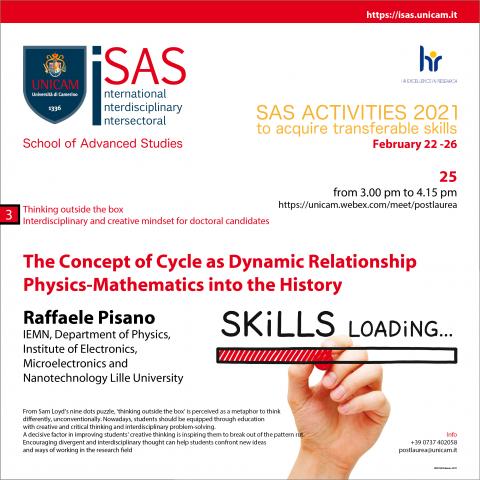 data di pubblicazione:
Tuesday, February 16, 2021

to

Friday, February 26, 2021